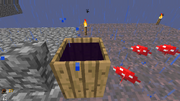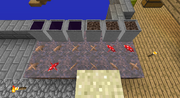 Soul Sand is produced from putting sand into Wood Barrels of Witch Water.
Sieving Soul Sand items
Edit
Depending on which mods you have loaded you can get the following items by sieving soul sand:-
Nether Wart
Ghast Tears
Colbalt Nuggets
Ardite Nuggets
Skyberry Bushes
Blightberry Bushes
Duskberry Bushes
Stingberry Bushes
Thornvines
Glowshrooms (Green, Blue, and, Purple)
Ghostwood saplings
Duskwood saplings
Fusewood saplings
Bloodwood saplings
Ad blocker interference detected!
Wikia is a free-to-use site that makes money from advertising. We have a modified experience for viewers using ad blockers

Wikia is not accessible if you've made further modifications. Remove the custom ad blocker rule(s) and the page will load as expected.